When I was a kid, all I wanted to do was create stories.
Magical stories of fantastic places. Heroes, Villains, and the massive and complex world of good vs. evil with all of the grey areas between. I'd make stories anywhere. Dungeons and Dragons, online through MUD/MUX/MOO characters. Anything. Anytime. Anywhere. Always conflict, always a story, always a new world.
Where I started though, was with comics. Drawing, writing, and creating.
To your right is my self-portrait from when I was 11 years old. The ridiculous hero, insecure, terrified, and realizing that every calamitous circumstance he has found himself in is TOTALLY HIS FAULT.
Some things never change.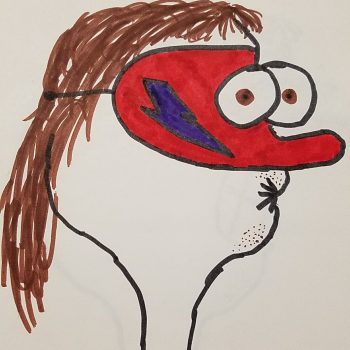 Fast forward many years and through many short stories, poems, starts and stops of various books (some of which I still have with full golden intention of going back to some day), and I caught a break.
This insecure man whose words you are reading right now ended up taking a shot, and getting a full-spread article published in a major industry magazine for Century Martial Arts. It was a breathtaking thing to see. I received calls from across the country from other martial artists and school owners, asking me about this article, my philosophy, and looking for advice.
The next phase of this journey is my debut novel:
"The Caretaker"
Set to release in 2020, this is a supernatural-world fiction story about a man who must learn to let go of the things he cannot have, no matter the high cost. It's a wild, mind-bending concept in a vivid world with complex characters and a LOT of grey area.
I want to update YOU on my progress, all you have to do is hang out with me on social media, and sign up for some updates!