If you're a fellow writer, what's the goal for getting your book published and out there?
Is it to appear in a bookstore?
Publishing has changed quickly even over the last 5 years or so. Book retailers are stuffing their stores with anime figurines, plushies, puzzles, games, vinyl records, and basically everything that's NOT books. I can walk into a Barnes & Noble, snag an imported Totoro ramen bowl from Japan, a "build your own gross slime" kit, a Blink 182 Funko Pop, a Sleep Token vinyl, and a Lego Spiderman set, all while sipping a sub-par (and overpriced) latte from the in-store Starbucks.
Oh, right, I can get books too.
Your retail bookstore knows it doesn't make money from books (and in fact only cares about making money from re-issued edition after edition of repackaged classics because of name recognition and no additional cash needing to be spent on introducing a "new" author), and isn't a giant megacorporation that starts with "A" and rhymes with "Cramazon?"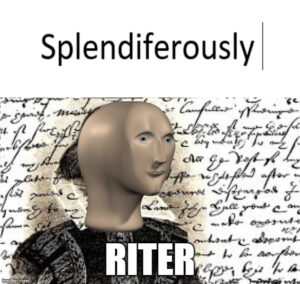 Local bookstores, libraries, and building your own base of readership is more critical now than ever. The writing is on the wall, people – everything is going digital, manga has taught us that turning our written works into graphic novels is one way forward, the Cramazon marketplace is being flooded with AI written works by people looking to make a cheap buck by overwhelming the marketplace and playing the numbers game, and your precious novel that nobody knows about except for a few fellow authors on Xitter is sitting there begging to be read. I'm not saying this to discourage you from seeking to publish – quite the contrary – I'd like more of my author friends to think about what they really want, and what they're willing to do to get there.
"I don't want to create videos/podcast." Understandable. Also, you're now behind the majority of authors out there who do this in order to be seen.
"I'm bad at marketing." And now you're exponentially decreasing your chances of an Indy publisher wanting your work. They need help with marketing.
"I don't have a website or a mailing list." How is anyone (ie: Readers, not fellow authors) going to know you wrote a book?
It's amazing that as authors we don't see what is right in front of us. The days of getting an agent, scoring a book deal, and seeing your book in airport kiosks – WITHOUT MAKING ANY EFFORT TO PUT YOURSELF INTO THE PUBLIC – comes with the same odds of getting bit by a shark and struck by lightning.
You've got to put in the work. For your own sake, get over the fears of putting yourself out there, and make it happen.